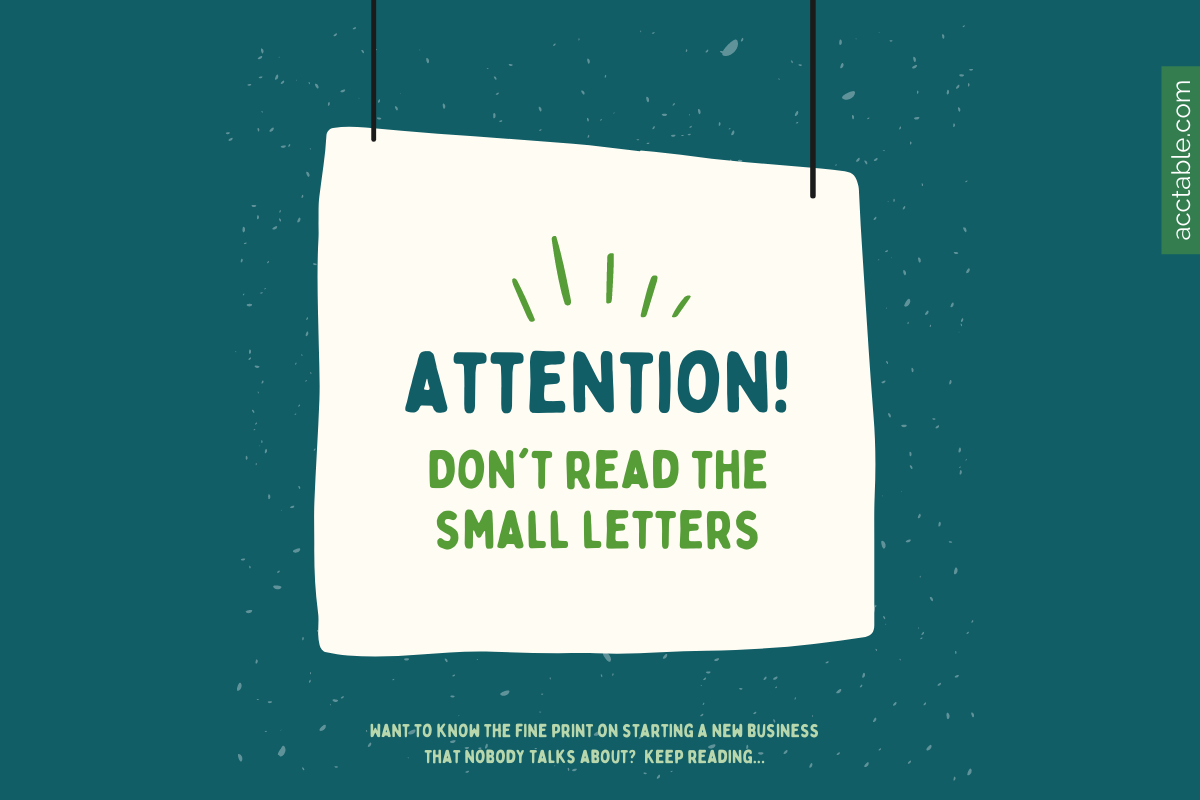 Do you wish there were detailed instructions for the major life decisions you make? A book that told you all the fine print nobody ever talks about? It would tell you all the things you never thought you would say as a parent like "why is this french fry wet?" or as a new home owner "this wire is supposed to do what?!"
As a new business owner, just like everything else, there is fine print and it often isn't discussed.
Yes, owning your own business brings a great sense of satisfaction and pride. You no longer have to daydream about what it would be like to be your own boss or set your own schedule. You are making it happen! You have the control to determine the customers you work with, how much money you make, and what service/product you want to deliver. You want a better world and believe that you can deliver it. But there is a cost.
The fine print tells you owning your own business is harder than you could ever imagine, lonely, full of self-doubt, wracked with money problems, and endless hours must be invested.
As small business owners, we have learned it is a heck of a lot harder than you think it will be. We're talking tears and screaming fits kind of hard. You are wearing all the hats, trying to grow the business while managing the business on a tight budget.
It's not outside the norm to cry every day for the first 6 months. You have to make yourself go to Chamber functions, networking groups, and any other business related events. If you are an introvert, you have to learn how to insert yourself into conversations, speak about your services and sell people on your dream. This can be extremely challenging especially if you prefer to work behind the scenes. You will quickly learn that people don't want to talk to you because they think you will try to sell them something. This can lead to a deep sense of loneliness.
We would say LONELINESS is the number one fine print issue most people fail to mention. You can have the strongest support system and a family that lends a listening ear, but you can still feel really alone. They don't truly understand what you are going through. As a business owner, the decisions you have to make can be incredibly hard and you will find that you don't have anyone to brainstorm with or to share.
Don't allow your loneliness to hold you back!
Join a networking group like LeTip or a BNI group. You can learn a lot about what to do and what not to do from these groups. Many people don't want to pay for the membership, but our experience is you will take it more seriously if you have skin in the game. We suggest you visit as many times as allowed, meet outside the group with those that align well with your business, and push yourself to do one on one's with everyone in the group the first 3 months you are a member. And don't talk about yourself… take the time to learn about them and their business. It will go a long way.
Another solution to help alleviate loneliness is to form a bi-monthly or monthly Mastermind Group. Once you have 3-5 business owners that you respect and admire, you can get together to share ideas, strategize, and discuss solutions to problems you keep coming up against.
In moments of deep loneliness, you may find yourself wanting a business partner. We get it. You want help in sharing the decisions and direction, but rarely and we mean rarely do we see partnerships succeed. They usually just create additional issues and stress!
If you decide to take on a business partner, list out all responsibilities and who they will fall to. Set expectations such as the hours you plan on working, how the financial decisions will be handled, and etc. Meet with an attorney so you can have a proper Operating Agreement drawn up. Be sure to include how a partner exiting will be handled. It is always best to have an agreement in place while all parties are happy!
The self-doubt that comes from owning your business can be hard to swallow at times. Business decisions need to be made regardless if it's a strength or weakness of yours. We all try to avoid making mistakes, but as you already know, it's through the mistakes that we learn the most. Nevertheless, we question whether our decisions are good ones.
We believe it will quickly become apparent to you that you always have the answers. Not Google, not your peers, not teachers or any set of experts, but that voice is already inside of you. This does come with experience and confidence, but if you start believing you have the answers, the self-doubt will fade. Will you still make poor decisions? Sometimes. But they won't bother you as much.
Guess what can add layers upon layers of stress to every entrepreneur… Money.
Guess what we wish grew on trees… You know.
It takes all you have to get started and then as soon as money starts to flow in, you realize it never stretches as far as you need it to. Many times it takes getting burned before you begin to look at your finances differently. We could talk about money problems for days, but our best advice is to have your finances in line before starting your business and be ready to be poor for a little while. This doesn't last forever, but that doesn't make it any less difficult to handle.
We suggest reading Profit First by Mike Michalowicz. The Profit First mindset and practical steps will help you avoid some of the money stress.
One final hardship is the amount of hours you have to put in to get your business up and running. We're talking about hours upon hours. If you believe you will work 9 to 5 right out of the gate, do not start a business. There are plenty of books that talk about being a business owner and working very few hours. We aren't saying this can't be true, but from our experience, it takes a long time before you get to this point.
Owning your own business is not for everyone. There are hard truths along the way that you should be aware of before stepping onto the entrepreneurial path. Although it can be one of the hardest things you will ever do, you will also experience the most growth in your life. We encourage you to talk to other business owners before stepping into entrepreneurship and carefully consider the decision.